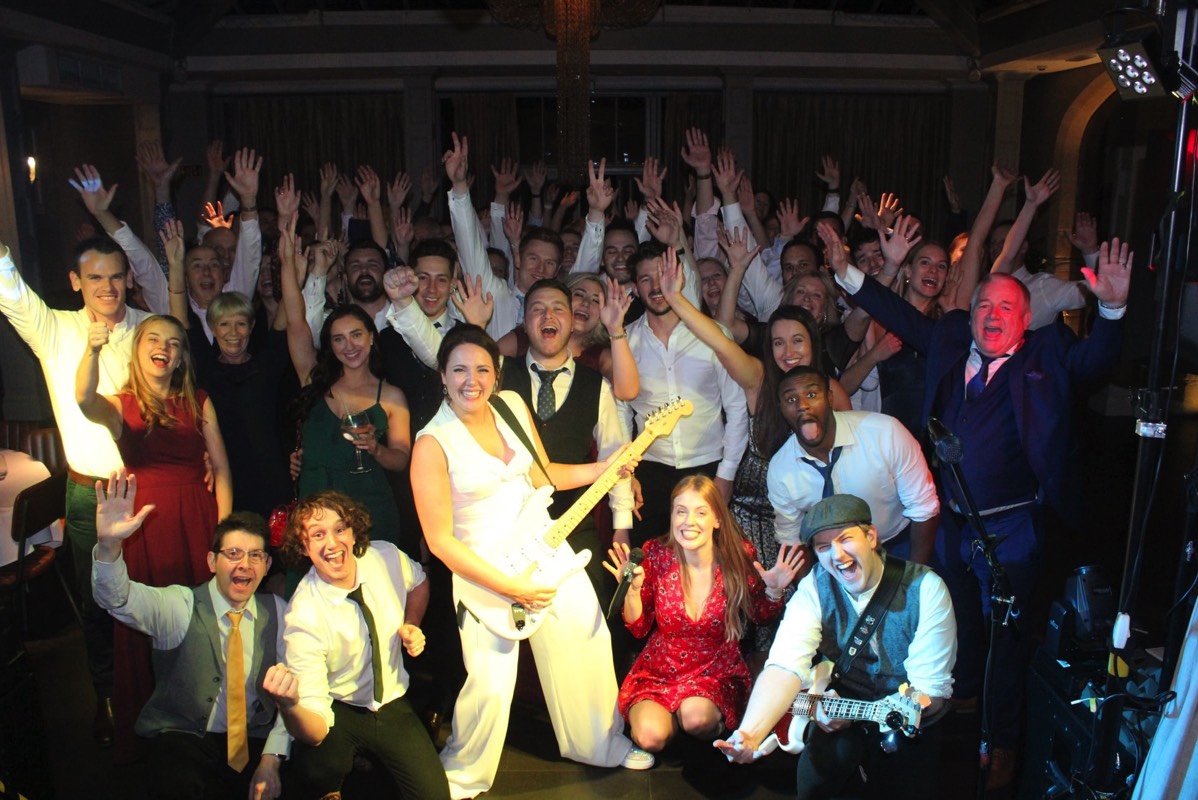 The Smooth Criminals have vast experience of weddings and parties to call upon. We know the songs that'll work the dance floor through to the logistics to bear in mind to make sure your all your live entertainment goes exactly to plan. We're always happy to help. We pride ourselves on being one of the best wedding bands around. We've put this short guide together to help you make the right decisions when it comes to your wedding entertainment. Many of our clients book other entertainment as well as the band. You might want a DJ to end the evening or a lounge pianist to play during the wedding breakfast? Perhaps you'd like a Jazz trio to play during the pre-dinner drinks? We can provide all these services at around half the price of booking them separately. Because we organise it all ourselves you can be sure of no conflicts and have it all swiftly set up often taking up a lot less space. See our
services
page for more details.
Before deciding on the entertainment for your wedding we would recommend that you consider the following:
Timings
What time should we get the band onstage?
We always fine that the bands performances have more impact when guests are given time after arriving to chat and have a few drinks. If your guests arrive at 7.30pm and the evening finishes as midnight then we'd recommend getting the band on around 8.30 - 9.30pm then 10.30 - 11.30 or 11 - 12, depending how you want to finish the evening. This means everyone gets to have a good chat at the start of the evening then get some drinks down them and start dancing! It's also a good idea to avoid the band performing while food is being served or consumed, unless you want laid back background music from our lounge pianist. We'll always happily advise on your timings to help you get the best out of the evenings entertainment.
Suitability
We've all seen great bands from time to time but would they all be suitable for a wedding? Whereas most bands will be happy to take a wedding booking some really wouldn't be suitable. The Blues band from down the pub might seem great with a few pints and that tribute act might really entertain but will they suit everyone?
Having played hundreds of weddings all over the country, we've got it down to a fine art. We play songs that will suit everyone young and old, we make sure our show is entertaining for the whole family making sure there's no bad language, we keep a professional approach at all times.
1st Dance Requests
Do you take requests for the 1st dance?
Yes, given enough notice (1 month) we can learn your 1st dance song free of charge given it is suitable for the band line up.
Type Of Venue
Does the venue permit live entertainment? Are there any noise restrictions or sound limiters? How accessible is the stage area?
The Smooth Criminals have experience working with sound limiters and noise restrictions. The acoustic sound of the drums is often the loudest instrument on stage, this why we have the option to use state of the art Roland electric drums where required for no extra fee. This means the total sound of the band can be adjusted just as you would your hifi, meaning that the perfect volume can be achieved. We also work with venue staff to ensure that we understand and meet their guidelines as well as discuss possible arrangements to overcome any venue problems and access restrictions.
Staging
How much space does the band need to set up? Do they require a raised stage? What are their power requirements?
When planning the room layout it's always a good idea to leave space between the band and the tables, as no one wants to have a speaker positioned inches away from their ear hole! Many of our clients have their evening meal in the same room as the evening entertainment. In this situation it's always a good idea to remove some of the tables from the area in front of the band to create a dance floor area - 8ft by 8ft is a good minimum size.
The Smooth Criminals floor space requirements are highly flexible, as we can arrange our equipment to suit most sized stages or floor spaces. As a fully live band with full drum kit, guitar, bass, keyboards, monitoring and lighting rig, we will require approximately 10 x15ft of floor space as well at least 2x twin mains power sockets (preferably on separate circuits). However, as we have a modular PA, we can add or downscale equipment to suit the venue. Larger venues (with in excess of 350 guests) will require more equipment and as such more floor space. Please note, the Smooth Criminals do not require raised staging, a flat floor area will do just fine!
Band Image

What will the band wear?
We'll always wear smart dress to fit in with your wedding guests. Male band members will usually wear grey suits with white or black shirts and female band members will wear a dress as seen in our
band pictures
. If it's a formal event we can wear dinner jackets with bow ties. Female band members will wear a smart evening dress.

Band Equipment
Many venues will require the band to have Public Liability Insurance (PLI) and Portable Appliance Testing (PAT). At The Smooth Criminals we have £10 million Public Liability Insurance and all our equipment is tested for electrical safety each year. We have certificates for each so just email if you need a copy for your venue.
We use modern top of the range equipment for all our gigs. All equipment is kept in excellent condition so it'll look as good as it sounds for your special day. As standard we'll bring a top end 4000 Watt PA system which will happily cater for up to 400 to 500 guests.
For outdoor performances and very large events we can provide extra equipment to suit at a very reasonable cost. We appreciate that Weddings usually have a very broad age range and we understand that most guests aren't going to want be deafened when sat at the back of the room trying to have a quiet chat!
Repertoire
Every Wedding is different, do you want to have a lively night of crazy stage antics and non stop dancing, or a romantic event with ballads and laid back classics? Modern chart hits or rocking 60's retro?
The Smooth Criminals repertoire is extensive, thoughtfully considered and thoroughly tested. Our set lists are tailored for the purpose and designed to get people out of their seats and onto the dance floor.
We can cater for it all. We generally find that a lively mix of Pop, Rock, Soul and Indie hits keeps the dance floor full all night. For most weddings we keep it up tempo, but if you want a sprinkling of romantic ballads we can do that too. We can take suggestions from you, and create the perfect set list for your event using our years of experience.
Announcements
Most Weddings often require a number of announcements to be made: Speeches, Cutting of the cake 1st dance etc. In many rooms it can be hard to hear these announcements clearly. For this reason we can lend you our radio microphone & pa to amplify these speeches and we can make announcements throughout the evening at no extra cost to you.
Piece of Mind
We want you to be completely happy with our services and have piece of mind when booking us. If you choose to go ahead with a booking we'll draw up a professional contract for our services, then request a small deposit to secure our services. We usually ask for the remaining payment around a week before or even on the night if you prefer.
Set Up Requirements
How much time will the band need to set up and sound check their equipment? What time will they need to arrive? How much time will they need to prepare for the performance? How much noise will they make and for how long?
Most bands will require secure changing facilities. Venues that are used to booking live entertainment will usually have such facilities but it is always wise to check, in case they have to make any special arrangements.
We appreciate that arranging your Wedding is a daunting task with many people to coordinate. You may want the band set up and out of sight early in the afternoon, if this is the case, no problem - we can arrange this for a small fee.
We will set up considerately and efficiently keeping the noise to a minimum at all times. Assuming we are required to bring our standard PA, the Smooth Criminals require a minimum of 1.5 hours to get all the equipment into the venue, set up and to do a full sound check. We'll need to make a bit of noise whilst we soundcheck to ensure the sound is as good as possible and at a suitable volume, but we usually do this in the last 20 mins of the set up.
Links
---
If you have any queries that are not answered here please feel free to email or call us: smoothcriminals@live.co.uk Tel: 07962 444 574, we try to respond to any enquiry within 24hrs.